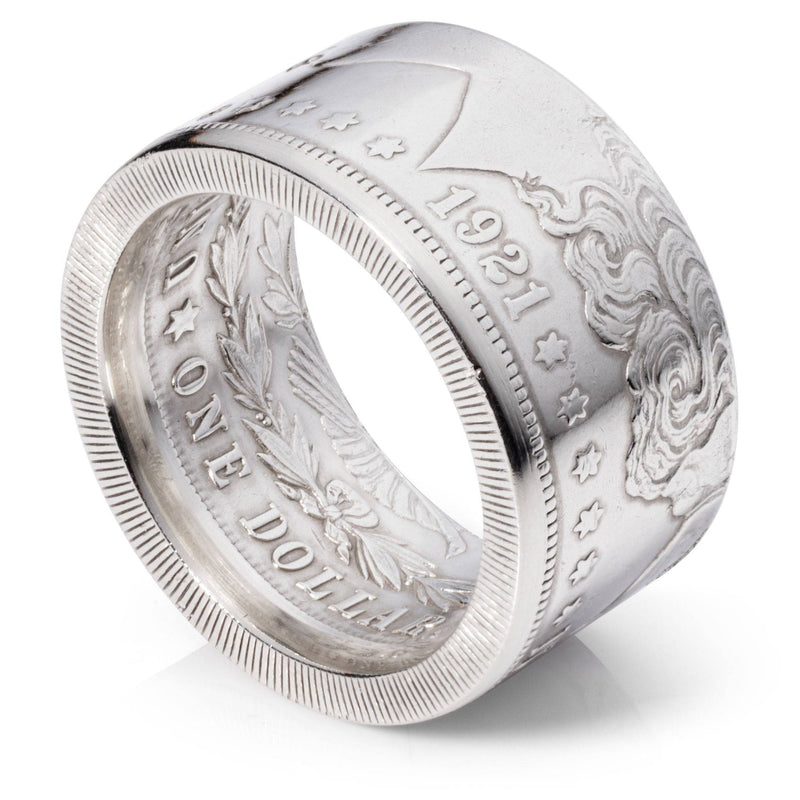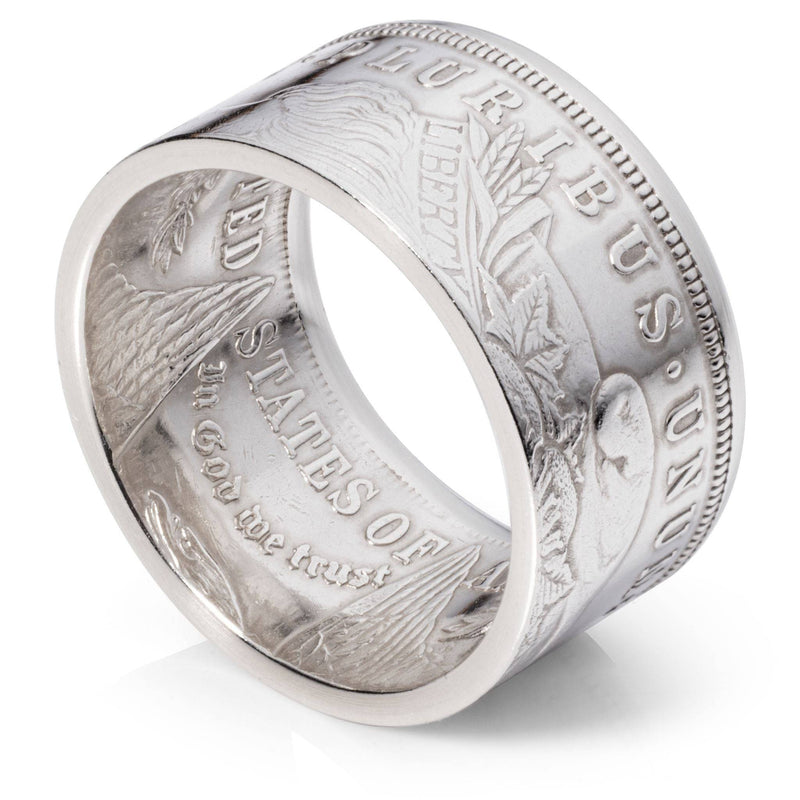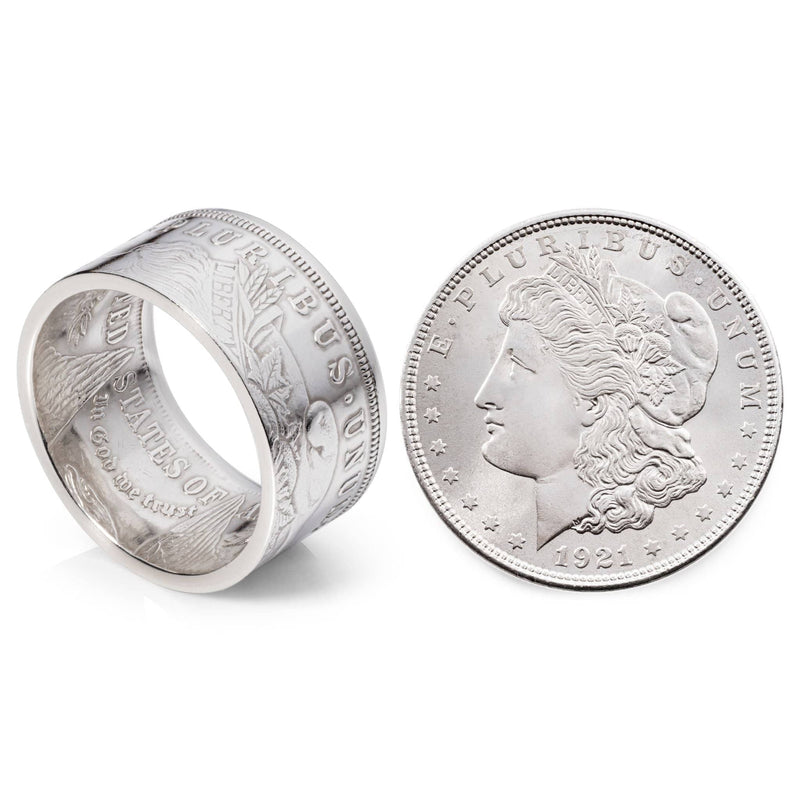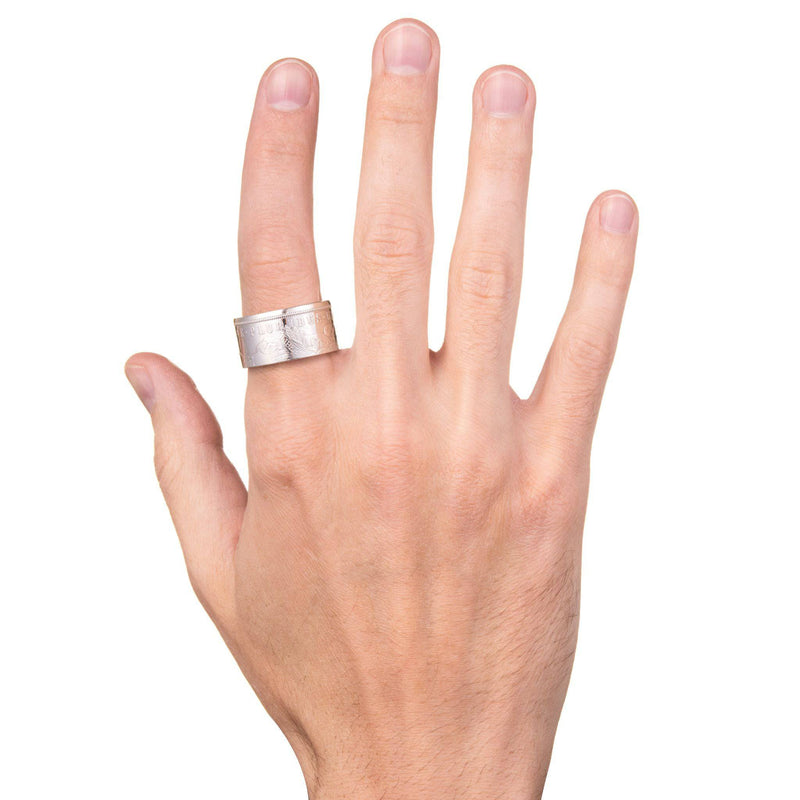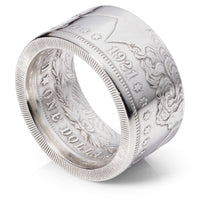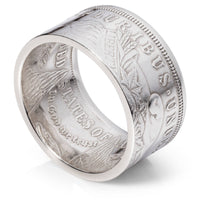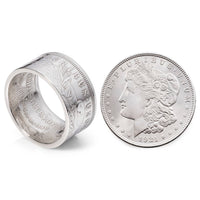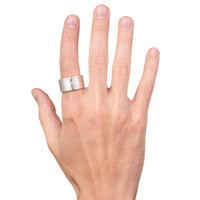 Morgan Silver Dollar Coin Ring - 'Heads' - Polished
Product Details
Experience the magnificence of these weighty yet stunning bands, renowned as the regal "King" of coin rings, with an impressive weight of 23 grams. Immerse yourself in the artistry of these exquisite pieces, meticulously handcrafted from authentic 1921 Morgan Silver Dollars, capturing the essence of timeless beauty.
The outer surface of the band proudly showcases the captivating "Heads" (Obverse) Design, a testament to the rich history of these silver dollars. Adorned with the words "E. Pluribus Unum" and featuring the striking profile of Liberty, these bands exude elegance and evoke a sense of pride.
Delve deeper into the craftsmanship, and you'll discover meaningful inscriptions on the inside of the band. Embrace the inspiring words of "In God We Trust," symbolizing faith and unity. Imprinted with "One Dollar," a testament to its historical value, and the year, marking its unique place in time, each detail adds significance to these exceptional silver coin rings.
These bands not only epitomize the beauty and allure of silver, but they also embody the historical significance of the Morgan Silver Dollars. With their weighty presence and intricate design, these coin rings make a statement, capturing the attention and admiration of all who behold them.
Indulge in the grandeur and legacy of these extraordinary silver coin rings, celebrating the craftsmanship of the past while embracing the cherished moments of the present. Wear the "King" of coin rings with pride and honor, as each one carries a rich tapestry of history, artistry, and symbolism.
Features:
- Made from a 90% Silver Morgan Dollar
- Width: 13mm
- Polished finish (Also Available in a Patina Finish)
- Sizes US 7 to 17 (Quarter sizes available upon request)
Expectation of Quality
I take extra time to ensure that each ring has a smooth, comfortable fit by carefully rounding the inside and out edges. This makes the reeded edge slightly thinner, and completely smooth. As is true with all coin rings, since the reeded edge of the ring is thicker than the smooth side, there will be a slight taper on the inside. I balance this by minimally carving out the inside edge of the ring while carefully preserving the detail. The result is a superior-quality ring with beautiful symmetry and comfort.
Shipping & Returns
Products Ship USPS first class for items under $150. Products exceeding $150 will be shipped priority/insured, with a signature required upon delivery. 
We are happy to refund your item in full* within 7 days of receipt. We ask that you pay for the return shipping.
Q&A
What if I ordered the wrong ring size?
We offer one free resizing! If your ring isn't a perfect fit, send it back to us and we will resize it for free.
How do I care for my coin ring?
It is recommended that you remove your ring during activities involving heavy use of your hands (i.e., gardening) or activities that could scratch the ring. With proper care, the unique details on your coin ring should last for many years to come.
Reviews
Total 5 star reviews: 9
Total 4 star reviews: 0
Total 3 star reviews: 0
Total 2 star reviews: 0
Total 1 star reviews: 0
100%
would recommend this product
Kelcie O.

Verified Buyer

5 Stars

This review has no content.

Paul O.

Verified Buyer

5 Stars

High quality and beautiful finish and fit.

Trent B.

Verified Buyer

5 Stars

The quality of this ring is beyond perfect. It's incredible. It was even better in person. Talked with Richard several times and he is so great. The ring fits perfect. I'll be ordering more,I actually already did.

Taylor W.

Verified Buyer

5 Stars is not enough to explain how wonde...

5 Stars is not enough to explain how wonderful this seller is, I would give him 100 Stars if I could. I ordered a ring for my husband for Christmas, unfortunately I ordered the wrong size. Richard was gracious and offered to resize the ring. Long story short UPS lost the ring that I sent back to be resized. Richard on his own dime made a new ring AND shipped it to me! We still do not have a resolution from UPS but we have received the new ring from Richard and it is PERFECT. You can't find service like this anymore let alone such a nice guy. Thank you Richard!

Matt Housman K.

Verified Buyer

I received my Morgan silver dollar ring an...

I received my Morgan silver dollar ring and it's absolutely beautiful and screams of quality. Prior to choosing Richard to make the ring for me, I searched through stores and looked at hundreds of images of the ring I was interested in. I finally settled on Richard's store because his craftsmanship exceeded all the other rings I looked at. Richard was very polite & professional during the manufacture of my ring. He gave me a timeline of when it would be ready and it was done as he informed me. My ring arrived quickly and was well packaged. When I opened the package and looked at the ring, I was blown away by the quality of the item. The ring is heavy & chunky like I look for in a ring. Richard did an outstanding job & if I could rate his store at 10 stars, I would. I highly recommend Richard & I'll be back myself....
Reviews Loaded
Reviews Added