About Change to Treasure
At the age of 9, my grandmother introduced me to the captivating world of coin collecting, which sparked my lifelong passion. Even at such a young age, I found myself irresistibly drawn to the alluring beauty and symbolic significance of coins. As the years went by, my interest in coin collecting transformed into a deep desire to harness their legacy and create something truly meaningful. During my high school years, I immersed myself in the art of crafting coin rings, inspired by the treasured silver and gold coin rings made by soldiers in times past. This unique form of "trench art" demanded countless hours of meticulous work. The ingenious idea behind it was to fashion rings for their beloveds using readily available objects like silver coins.
⠀
During my journey, I had the opportunity to meet the perfect partner who would help me elevate my craft to the next level: my beloved wife, Ashley. It's remarkable how, after holding her hand just once, I was able to create a silver coin ring that fit her finger perfectly. With her own passion for coin collecting, Ashley became my steadfast supporter, encouraging me to continuously refine my craft. Inspired by her unwavering support, I delved into studying classic techniques for shaping coins into rings, discovering innovative uses for commonplace tools along the way. I even pioneered new steps in the process, pouring extra attention into every intricate detail. By 2013, I had honed my skills and developed signature techniques that allowed me to preserve the exquisite details on both sides of the coin while ensuring a smooth and comfortable fit for each gold and silver coin ring.
⠀
Thus, the journey of Change to Treasure began on Etsy as a simple way for me to share my love for coin rings with fellow coin enthusiasts. Over the years, this humble endeavor has experienced exponential growth and success. Today, I feel deeply honored to bring over 25 years of experience and expertise to the creation of stunning coin rings. My unwavering commitment to quality over quantity is reflected in the meticulously curated collection of authentic U.S. coin rings I offer. From Silver Coin Rings to Gold Coin Rings, each piece is crafted with utmost care and attention to detail. Moreover, I provide custom ring craftsmanship services, allowing you to transform a precious coin from your personal collection into a truly one-of-a-kind statement ring. Rest assured that every coin ring I create undergoes the same level of dedication and craftsmanship as the very first one I made. It never leaves my workbench until it meets the impeccable standards of quality and beauty that I would proudly present to my own cherished loved ones.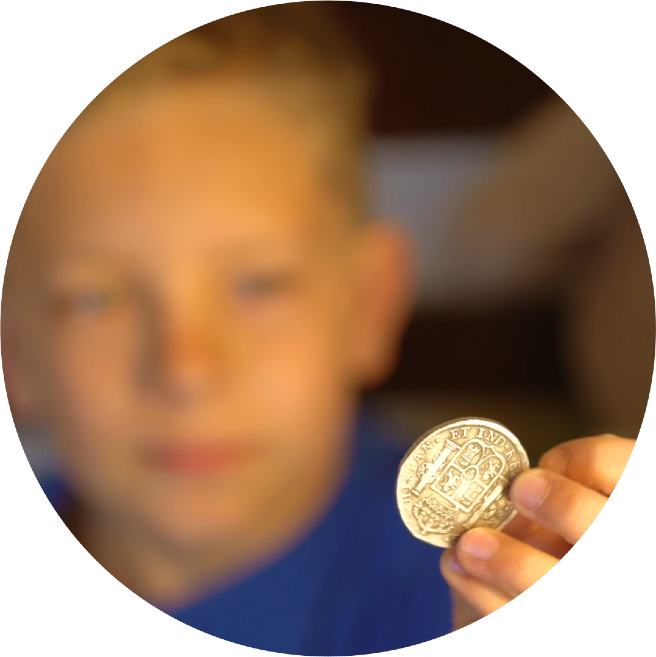 A Historic Tradition
During the world wars, turning coins into rings became a popular custom for servicemen visiting home from the war front. During these years of national hardship, these simple but beautiful tokens provided a way for families to keep the memory of their loved ones close. Today, coin rings offer collectors a way to enjoy unique items that don't need to be saved intact and provide a meaningful way for family and friends to share keepsakes that bear the date of important milestones such as Weddings, Anniversaries, Birthdays, Graduations, Retirements, and more.

Uncompromising Quality from a Veteran Coin Collector
As a coin collector for over 35 years, I bring unparalleled passion and expertise to the process of crafting coin rings. I start by working only with Trusted Dealers who seek out and authenticate top-quality collector-grade coins from specific date ranges. I personally inspect each coin for any defects, then narrow down my selection even further, choosing only coins with strong "strike" details that offer greater visual interest and value.
A Gift Worth Investing In
Just like our customers, we at Change to Treasure prefer to invest in quality over quantity. Our Catalog of handcrafted U.S. coin rings are all crafted with deep attention to detail and a love for the finishing touches that highlight each coin's signature beauty and unique history. Knowing that each piece represents not only our national history, but also an individual's most precious memories, I take personal pride in delivering a ring with flawless quality you can feel as well as see.
Coin Ring Gifting Occasions
Bring your story and history together with a custom coin ring handmade from quality silver and gold coins.

Birthday
Unveil your captivating story with a remarkable Morgan Silver Dollar Ring, a unique birthday gift!

Wedding
Express the power of your love with a handcrafted 22k Gold Coin Ring, made from a genuine U.S. Gold American Eagle coin.

Anniversary
Celebrate your relationship milestone with a Silver Quarter Ring or Half Dollar Ring crafted from an authentic U.S. coin.