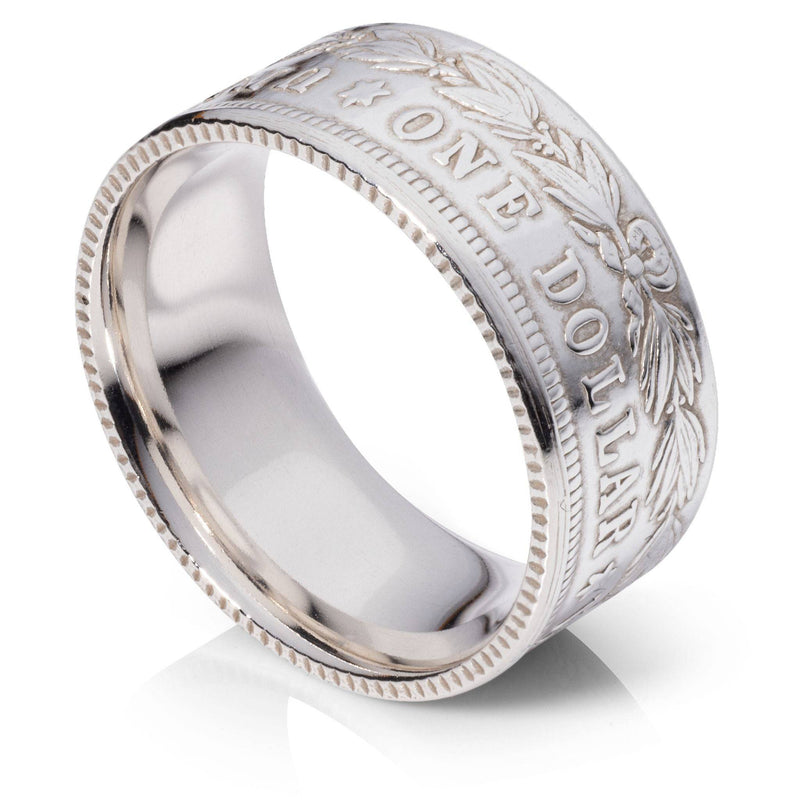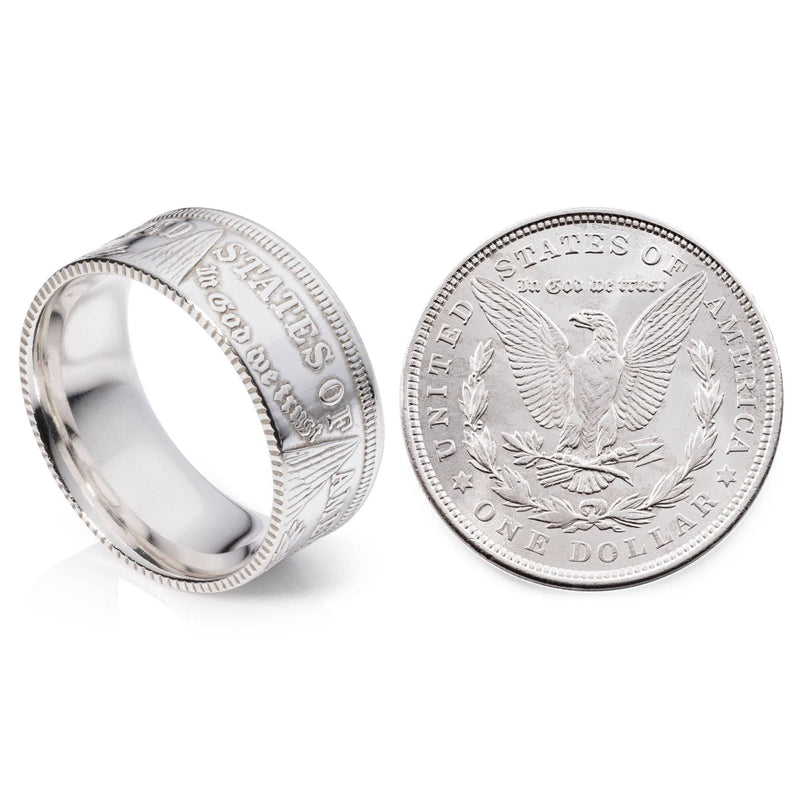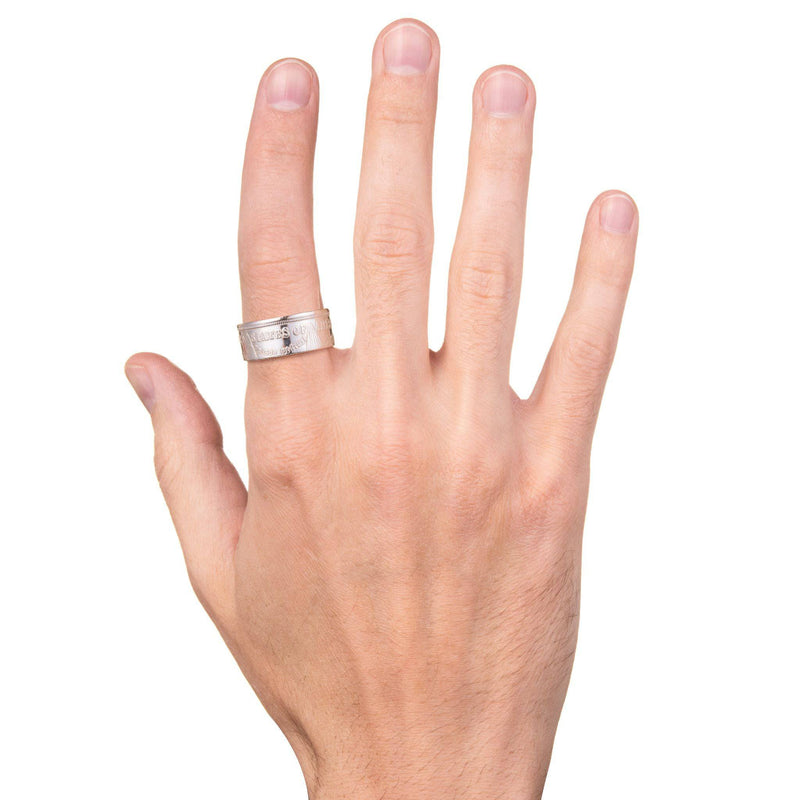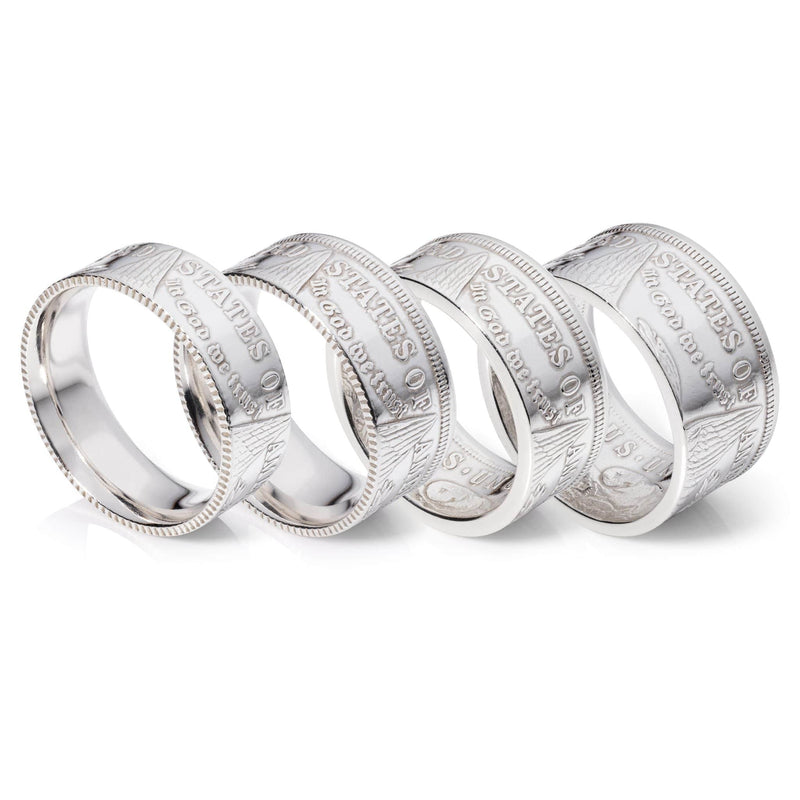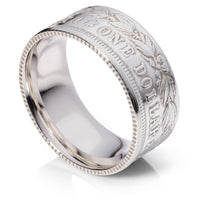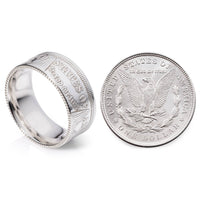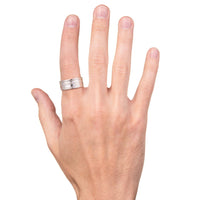 Silver Dollar Ring - Comfort Fit - Polished Finish
Product Details
Experience the timeless elegance of my handcrafted Morgan silver dollar coin ring, meticulously created using authentic Morgan Silver Dollars. This exquisite men's wedding band combines vintage charm with modern sensibilities, providing a remarkable accessory for those with discerning tastes. The polished finish and intricate details, featuring "In God We Trust," "United States of America," and "One Dollar," create a visually captivating design. I also incorporate a reeded edge on both sides of the coin for symmetry.
 Each ring is crafted with care and attention to detail, ensuring a comfort fit interior for ultimate wearing comfort. I select the finest silver dollars for exceptional quality and striking visual appeal. Meticulous techniques and skilled craftsmanship ensure beautiful, durable, and long-lasting rings that stand the test of time.
 Versatile and stylish, my polished Morgan silver dollar coin ring complements both casual and formal attire, making it an ideal choice for any occasion. Whether it's a social gathering, work, or a special event, this ring adds sophistication to your ensemble. The authentic silver dollar design stands out, sparking conversation and admiration.
 Meticulously crafted to perfection, each ring reflects my dedication to exceptional wearable art. It will become a treasured addition to your collection, showcasing your impeccable style and appreciation for craftsmanship.
 Experience the elegance, craftsmanship, and enduring beauty of my polished Morgan silver dollar coin ring, designed as a men's wedding band, though versatile enough to be worn for any occasion. It's more than just jewelry; it's a statement of style, history, and a cherished heirloom in the making. Invest in this exquisite ring today and own a truly exceptional piece of wearable art.
Features:
-
Made from a 90% 
Silver Morgan Dollar
- Width: 10mm
- Thin Profile
- Approximately 13 grams
- Polished finish (
Also Available in a Patina Finish
)
- Sizes US 7 to 17 (Quarter sizes available upon request)
Shipping & Returns
Products Ship USPS first class for items under $150. Products exceeding $150 will be shipped priority/insured, with a signature required upon delivery. 
We are happy to refund your item in full* within 7 days of receipt. We ask that you pay for the return shipping.
Q&A
What if I ordered the wrong ring size?
We offer one free resizing! If your ring isn't a perfect fit, send it back to us and we will resize it for free.
How do I care for my coin ring?
It is recommended that you remove your ring during activities involving heavy use of your hands (i.e., gardening) or activities that could scratch the ring. With proper care, the unique details on your coin ring should last for many years to come.
Reviews