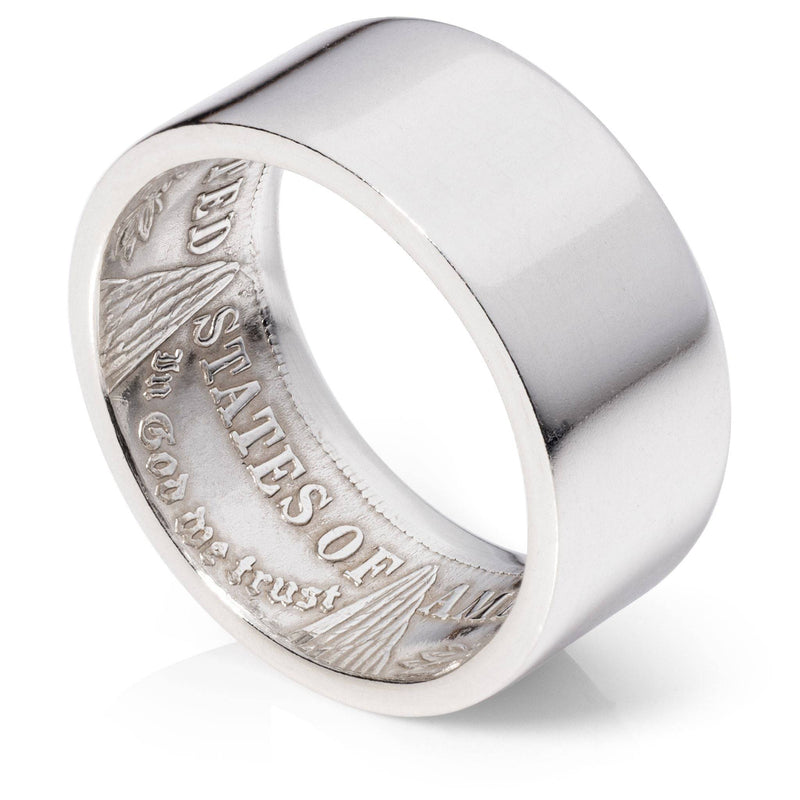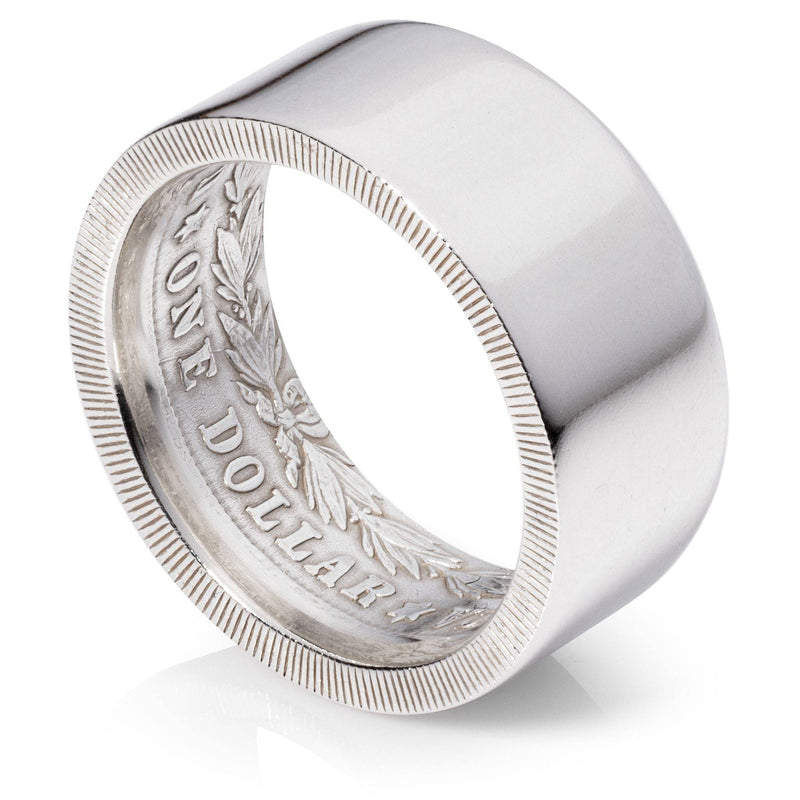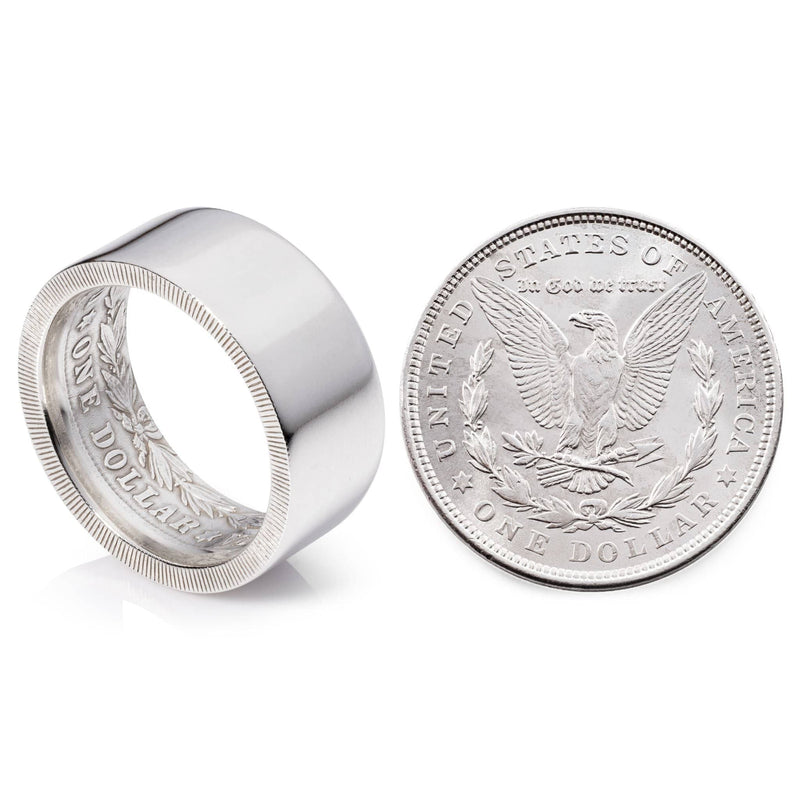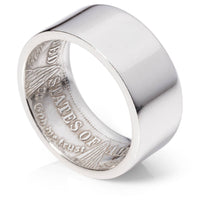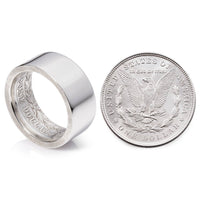 Silver Dollar Rings | Smooth | Polished - 10mm
Product Details
Introducing our stunning Silver Dollar Rings, meticulously designed to capture the essence of elegance and history. Crafted from authentic Morgan Silver Dollars, these rings are a true symbol of timeless beauty. In our pursuit of perfection, we've created a unique piece that showcases the coin's exquisite Reverse (Tails) Design on the inside of the band, creating a delightful surprise for the wearer.
With an exterior featuring a smooth and polished finish, our Silver Dollar Rings exude a sophisticated charm. The craftsmanship is impeccable, ensuring each ring is a testament to the rich heritage of the Morgan Silver Dollar. As you slip this remarkable ring onto your finger, you'll be greeted by the heartfelt "In God We Trust" motto, alongside the proud inscriptions of "United States of America" and "One Dollar."
These Silver Dollar Rings serve as a captivating variant of our popular Narrow Band Morgan Dollar coin rings. Though slightly thinner, they retain the creative essence that sets them apart. As a statement piece or a cherished gift, these rings combine history, artistry, and style in one elegant package.
Embrace the allure of the past and express your unique style with our Silver Dollar Rings. Their intricate design and authentic craftsmanship make them a coveted addition to any jewelry collection. Whether you're a history enthusiast, a coin collector, or simply someone who appreciates the beauty of fine jewelry, these rings are a perfect choice.
With our Silver Dollar Rings, you'll not only enhance your personal style but also make a statement that resonates with a rich heritage. Experience the charm and prestige of the Morgan Silver Dollar in a wearable piece of art. Discover the magic of our Silver Dollar Rings and let their beauty captivate you.
Features:
-
Made from a 90% 
Silver Morgan Dollar
- Width: 10mm
- Polished finish
- Sizes US 7 to 17 (Quarter sizes available upon request)
Expectation of Quality
I take extra time to ensure that each ring has a smooth, comfortable fit by carefully rounding the inside and out edges. This makes the reeded edge slightly thinner, and completely smooth. As is true with all coin rings, since the reeded edge of the ring is thicker than the smooth side, there will be a slight taper on the inside. I balance this by minimally carving out the inside edge of the ring while carefully preserving the detail. The result is a superior-quality ring with beautiful symmetry and comfort.
Shipping & Returns
Products Ship USPS first class for items under $150. Products exceeding $150 will be shipped priority/insured, with a signature required upon delivery. 
We are happy to refund your item in full* within 7 days of receipt. We ask that you pay for the return shipping.
Q&A
What if I ordered the wrong ring size?
We offer one free resizing! If your ring isn't a perfect fit, send it back to us and we will resize it for free.
How do I care for my coin ring?
It is recommended that you remove your ring during activities involving heavy use of your hands (i.e., gardening) or activities that could scratch the ring. With proper care, the unique details on your coin ring should last for many years to come.
Reviews
Total 5 star reviews: 1
Total 4 star reviews: 0
Total 3 star reviews: 0
Total 2 star reviews: 0
Total 1 star reviews: 0
100%
would recommend this product
This Is Jewelz E.

Verified Buyer

5 Stars

The seller was great to work with. He communicated in a timely manner and was able to accommodate a special size. The quality of the ring is top notch.
Reviews Loaded
Reviews Added