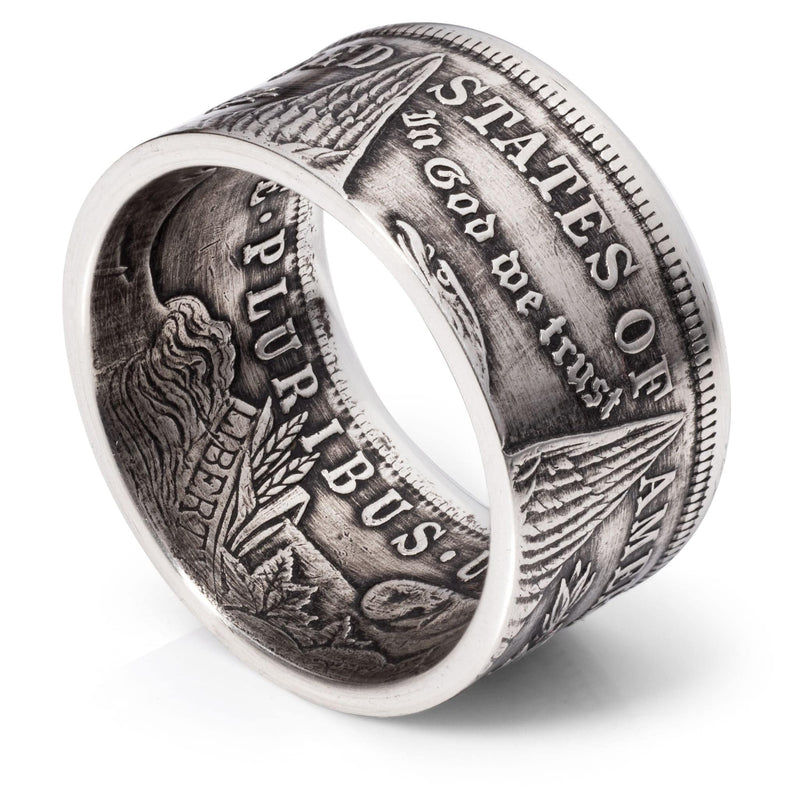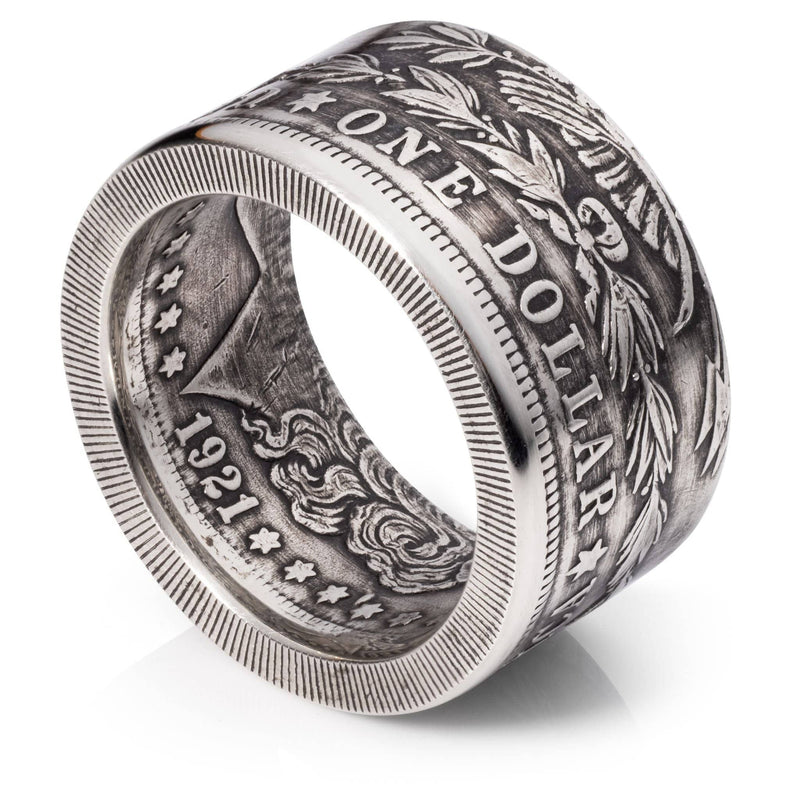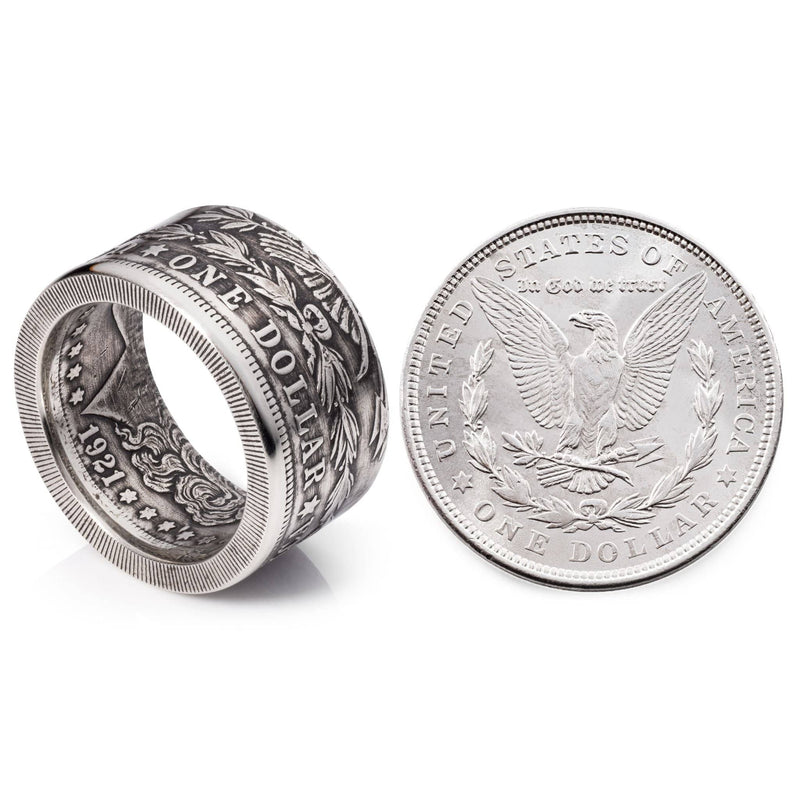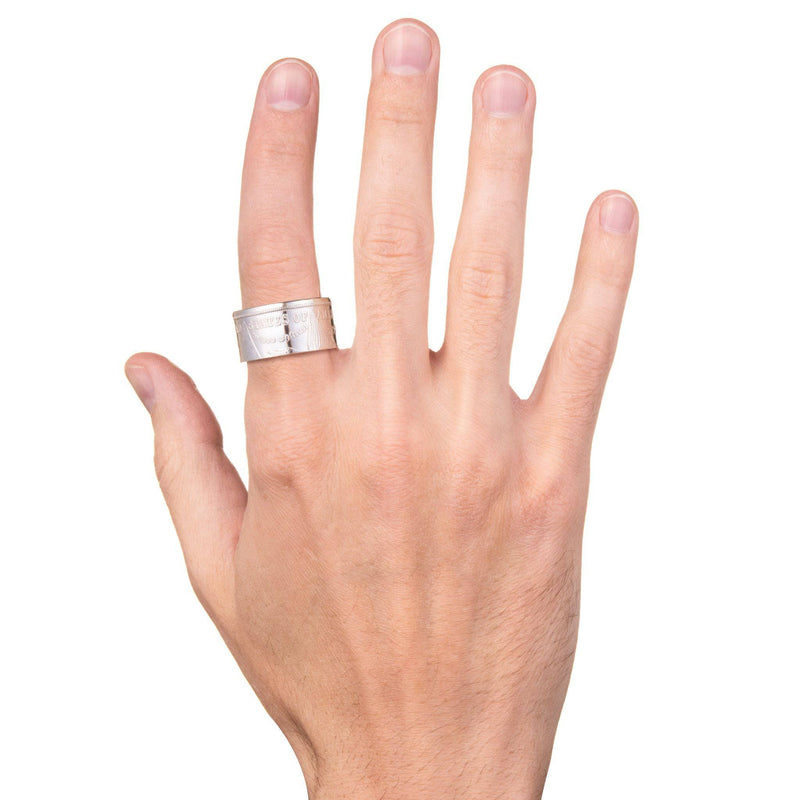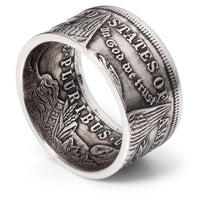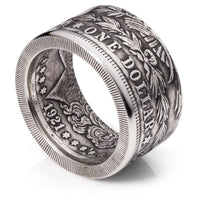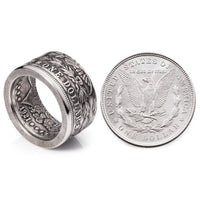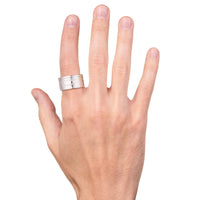 Handmade Men's Ring from Silver Dollar - 'Tails' - Patina
Product Details
Discover the epitome of craftsmanship with our handmade men's rings, meticulously created from genuine 1921 Morgan Silver Dollars. Weighing in at 23 grams, these remarkable bands reign supreme in the world of coin rings. Adorned with the captivating "Tails" (Reverse) Design, each band showcases the majestic Eagle's head subtly emerging beneath the revered "In God We Trust" inscription. Imprinted with the prideful phrases "United States of America" and "One Dollar," these rings exude a sense of patriotic allure. Delve deeper into their essence to uncover the hidden treasures within. Engraved on the inner surface, you'll discover the significant year, "E. Pluribus Unum," and the timeless symbol of "Liberty." Experience the unrivaled charm of our men's handmade rings, meticulously crafted to capture the essence of history and artistry.
Features:
- Made from a 90% Silver Morgan Dollar
- Width: 13mm
- Patina finish (Also Available in a Polished Finish)
- Sizes US 7 to 17 (Quarter sizes available upon request)
Expectation of Quality
I take extra time to ensure that each ring has a smooth, comfortable fit by carefully rounding the inside and out edges. This makes the reeded edge slightly thinner, and completely smooth. As is true with all coin rings, since the reeded edge of the ring is thicker than the smooth side, there will be a slight taper on the inside. I balance this by minimally carving out the inside edge of the ring while carefully preserving the detail. The result is a superior-quality ring with beautiful symmetry and comfort.
Shipping & Returns
Products Ship USPS first class for items under $150. Products exceeding $150 will be shipped priority/insured, with a signature required upon delivery. 
We are happy to refund your item in full* within 7 days of receipt. We ask that you pay for the return shipping.
Q&A
What if I ordered the wrong ring size?
We offer one free resizing! If your ring isn't a perfect fit, send it back to us and we will resize it for free.
How do I care for my coin ring?
It is recommended that you remove your ring during activities involving heavy use of your hands (i.e., gardening) or activities that could scratch the ring. With proper care, the unique details on your coin ring should last for many years to come.
Reviews